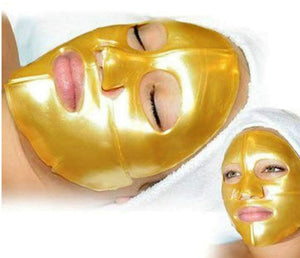 Gold Collagen Face Mask (5 masks)
This product is an affordable anti-aging facial mask made with 24K gold. It's wonderful anti-aging and anti-wrinkle ingredients help maintain your skin's youthfulness, reduces toxins and firms up your skin. For all skin types. Package contains 5 masks. Use one per week. 
Directions: 
1. Cleanse and thoroughly dry your face. 2. After opening the foil package, apply the mask and smooth gently to ensure good contact with the skin. 3. Wear the mask for about 20-30 minutes. Remove the mask and do not reuse. Repeat once a week.